The carbonate/bicarbonate system is one of the best biological buffers of pH, and is often used in aquaria to boost the alkalinity of systems (raising kH values). There is ready source of bicarbonate that aquarists can take advantage of, and that is baking soda (pure sodium bicarbonate).
There are several advantages to using baking soda as a buffer:
1. Cheap. I bought 12 pounds of baking soda for less than $7, while a 10.6 ounce bottle of Gold Buffer costs almost $14!
2. Easily available. Just go to any supermarket.
3. Works!
4. Doesn't affect the pH much. NOTE: All buffers will change your pH. Some will do so a lot, some a little. Baking soda won't change the pH that much, at the amounts you use. Keep in mind though, that if your pH is less than 7, it will bring it up to around 7.4-7.8.
5. We know exactly how much baking soda to add to raise kH by a certain amount. This is an extremely important, as it takes out the guesswork.
Disadvantages:
1. You have to keep adding with each water change, as opposed to crushed coral, for example.
2. It only raises kH, but does not raise gH, unlike crushed coral and some other buffer, for example.
3. This is critical. If you opt to use baking soda, you should take care to do a 100% WC in your tank every 2-3 months to avoid accumulation of too much sodium in the tank.
So, how much baking soda to add? I've made two tables (one in grams, the other in tablespoons) for your convenience.
Keep in mind that for goldfish and for optimal maintenance of beneficial bacteria, we want the kH to be around 100-150ppm. The same gH is ideal.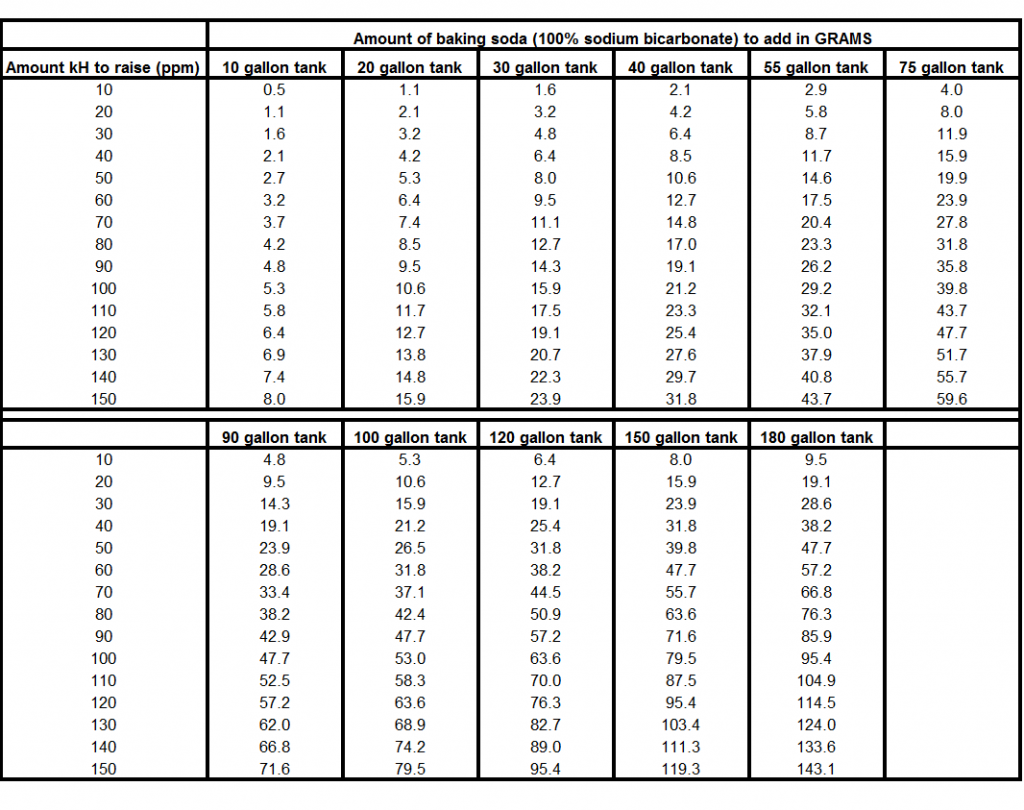 Source: