hey Kris... i dont know if this will be of any use at all, but here are some things i know about wens
There are a few types of goldies that will grow wens, the most common of which being our beloved orandas. You will also find that you can get what are called 'crowned pearlscales' these too have wens. Ranchus (or lionheads) will grow wens that can cover their entire face.
The most normal appearance of a wen is quite hard to describe, but it kinda looks like solid jelly placed on the head, or more likely all over the face
here is a pic of my oranda casper (also after his wen trimming):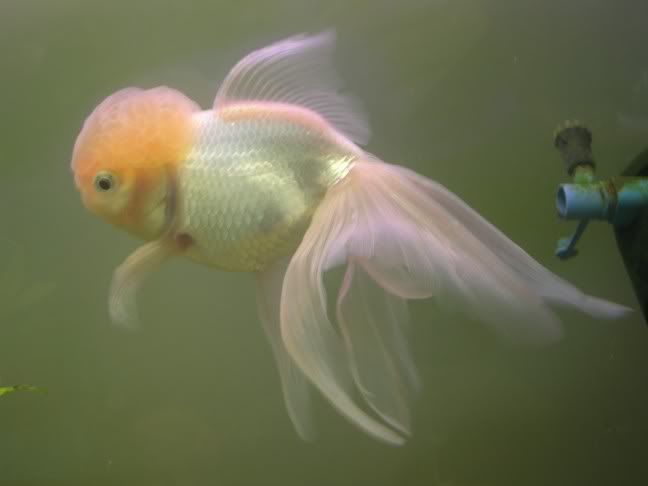 White spots on the wen can indicate a problem (such as fungus), but it can also just show that the wen is growing. New head growth will look white, and is sometimes confused with fungus or bacterial infections (i have made this mistake before). The best way i find to tell if it is wen or not is again to look at the texture. fungus generally looks more 'fluffy' than new wen growth.
Foods that can help to promote wen growth are those high in protein such as plankton and bloodworms. You can also buy foods that will increace wen growth in the fish, i have found that Hikari oranda food works quite well
as for the wen trimming - i have had to do this to my beloved oranda casper. i suggest you only ever do this is the fish's health or wellbeing is at risk, i.e.: if the wen is covering the eye, This is only my method and im sure there are plenty of people who will have things to add etc
I found that the best hing to do is before you take the fish out of the tank, make sure that the water quality is absolutely perfect. then fill a tub with the tank water and place the fish into it. It should be deep enough so that the fish can swim upright in it, as i'm guessing most people will not use anaesthetics to sedate the fish and so you dont want them getting hurt when you have to let the back down for air...
Then take a sterile pair of nail scissors and have some iodine & tissue ready so that you can dab the 'cut away' areas after you are done. Once the fish is in the tub, pick him/her up, taking care not to damage any of their fins in the process, also take care to hold *firmly* to prevent them damaging themselves, but not too hard as you can end up rupturing or damaging their organs. Then take the sterile nail scissors and cut away the area covering the eye obviously making sure not to damage the actual eye in the process (i always have a light next to me so that i can see what i'm doing). The wen itself has a very odd texture when you cut it and it is more like cutting rubber i find, so make sure that the scissors are sharp.
once you are done removing the offending areas, *very carefully* dab the 'cut' bits with an iodine solution. Make sure that whilst he fish is out of the water you keep letting them back down for air.
I found that the cut areas should look as good as new within a few days, although at first they will have the 'new wen growth' whiteness where you cut and will turn to the normal wen colour within 7 days.
Make sure that your water quality is perfect afterwards (of course it should be anyway) as this is essential as it will prevent infection.
hope this has helped you in some way...