Hi everyone. Before I go off on my Thanksgiving activites, I wanted to share with you this short video of the littles discovering that peas = food.
I was a bit worried that the minnows were not getting enough food because it sinks to the bottom and they were looking for it at the top of the tank.
Anyway, I put a couple of smushed peas in the tank this morning. The calico (who is probably to be named Emma Goldman because she tilts left, due to a wonky tail fin) found the peas first. Then two adventurous minnows came to see what all the excitement was about. The orange one (who is called jelly bean for now) was obsessed with the filter intake as a source of food and oblivious to the peas until the rest of the minnows swam over to investigate. Anyway, enjoy the video - sorry for the bad quality. My camera doesn't take very good video.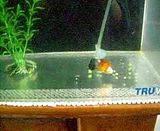 Then I had to give Fluffy his share of the limelight with this one of him hunting peas in the new 55. As you can see, I added the rest of the bag of eco Complete to the tank last night. I'm not sure I like it, but it's too late now!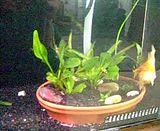 Anyway, have a great Thanksgiving holiday everyone.
mj