Halfway there & super stoked
---
I have been testing my tank intermittently and watching the level of ammonia... I am finally around 2ppm ammonia (or a little less than 2ppm). This weekend I tested for nitrite and I have a reading of .25 ppm!
Awwwww yeah!
I'm definitely about halfway there and I'm anticipating being cycled no later than the beginning of 2014.
*knocks on wood*
In addition to being really excited about my cycle moving along, I'm also super stoked about the actual goldfish!
In the past I've either wandered around a local LFS for goldies or my husband and I have gone on "fish adventure days" where we drive around the Bay Area and stop at several fish stores. Even if I didn't find a goldie to come home with me, it was a lot of fun looking around to see what types of fish the stores had and how well they took care of them.
This time I'm doing things a little different. I decided that I would buy online through a reputable breeder and I've been keeping an eye on auctions and doing some online "window shopping".
Well... one thing led to another and I ended up convincing my wonderful husband splurge on a couple of goldies as a Christmas prezzie for me. They are Rain Garden goldfish; 2 oddballs to be exact. 1 pearlscale that never developed pearls, and 1 ranchu with a dorsal. I'm totally in love. I spoke with Steve and he has been very generous in agreeing to hold them for me until my cycle is complete. Assuming my tank is ready around the beginning of the year, these 2 will arrive on 1/10/2014: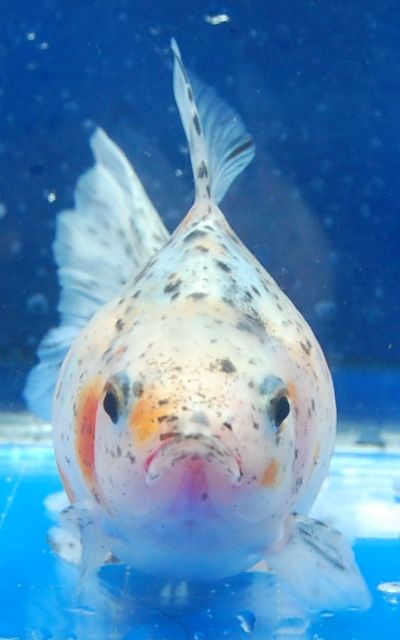 Steve was also nice enough to allow me permission to use his photos
DROOL