So tonight I got home from work and started planting.
I had pulled some of the swords from the Betta tank this morning, and I pulled the rest of the plants out of the old tank this evening.
I have done some reading and looking at pictures of other planted tanks to get some ideas.
I had decided that I wanted a couple of islands of plants surrounded by bare space. I had also read about putting the focal point a bit off center in the tank. This is known as the golden ratio. I measured 18.334 inches from each end. The idea is to place the focal point at one of those 2 places in the tank. So that's where I put the plant island as the focal point.
I had a bit of gravel left from the betta tank, so I used that in a clay saucer to make my plant island. I planted some swords, the onion plant, and a baby amazon fern in the saucer and placed it at the sweet spot. I arranged a couple of rocks and some other plants around the tank.
And here it is: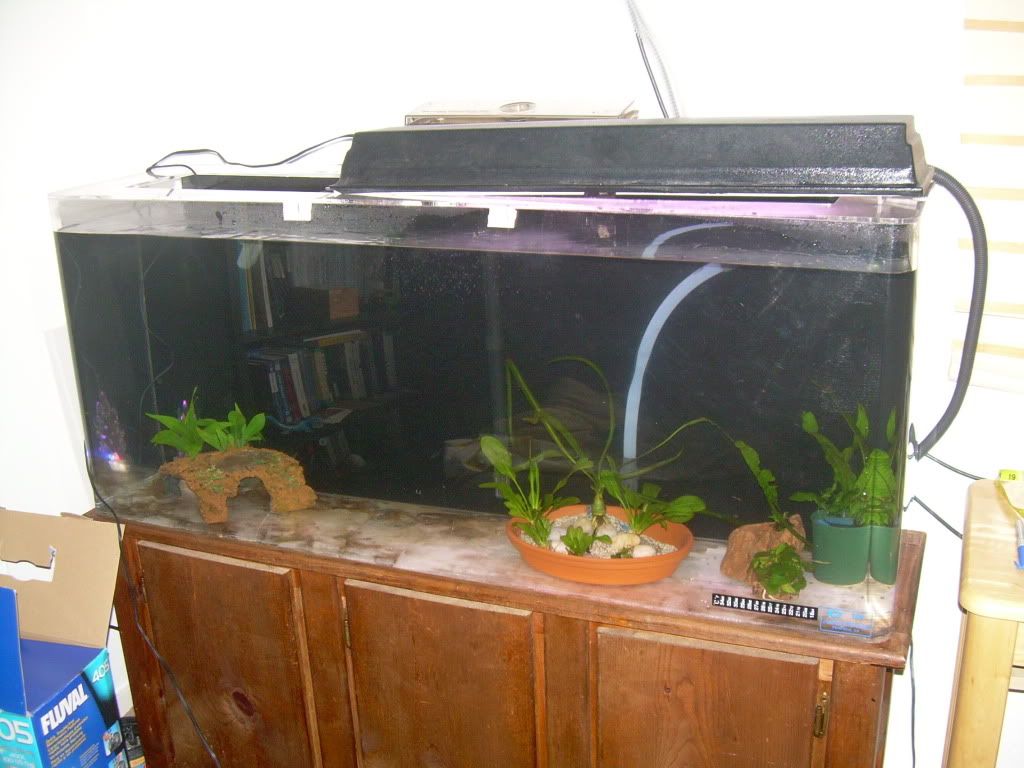 What do you think? Please let me know your comments and suggestions, cuz I sure don't know what I'm doing!
I assume that once the plants grow in, it will look more like I envisaged it. I think I will add some more anubias on rocks over by the tunnel. I definitely need to replace the canister filter intake - I need a black one, cuz the clear one sticks out like a sore thumb.
The bad news is that I broke the light fixture
- it was not actually big enough, but I was going to make do with it. Now I'll have to buy a new light.
The ammonia is still at 2.0 this evening. I am going away for the weekend, so I hope the bb's will kick in before Monday when I get back. I'd like to move Fluffy over on Monday and get new fish on Tuesday.
Thanks for watching!
mj