Monster Update on EVERYTHING
---
I have soooo many pictures this morning
My camera definitely does better with natural sunlight on the tank, it doesn't like taking a picture of a lit object as the tank is always brighter than the room lighting otherwise. Lots of fishie pics
Though not really of the ranchu...she is not cooperative. My anubias has a flower too
The only good pic I got of it X and Crankypants decided they wanted in too
It's unusual I get more than 2 of the fish in a pic without them being quite as clear as this
Most are like this...clear of one and magically not of the other, these two are mostly inseparable
Trouble in twos...
Some slightly blurry pics of the moor
Guess I caught CP by surprise!
X's ryukin shape is really starting to come through
I did wonder for a while if she was a fantail but I think she looks like she'll be a nice red short-tail ryukin
I really love the shape of the moor, she's got a great tail, even eyes and a good fin and body structure
3 out of 4 again
And everyone together
:o
And not too blurry
:o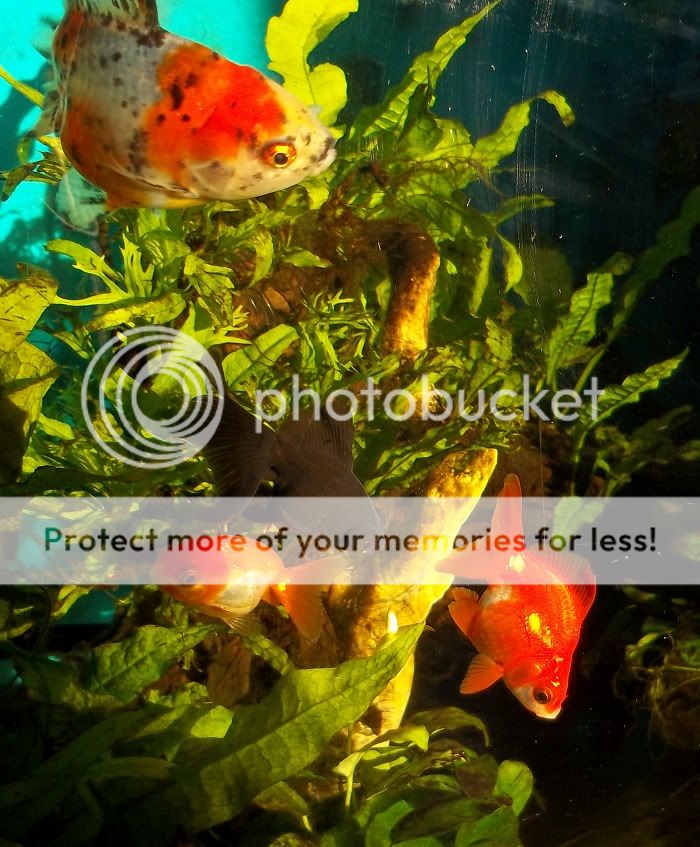 And because I feel KB should be included, his new tank which has already been shown elsewhere
In other news...my plants are doing really well
I repotted the Coriander and it sulked for a day or two but I think it's coming back again now
The Chillis were unphased by their repotting experience and the Parsley's going crazy!
Left to right, Basil, Chives and Parsley
The Oregano seems to be a slow grower, a few more seedlings have made an appearance and the older ones are starting to form their second pair of leaves
Chillis
The little one will hopefully grow more now it's not overshadowed as much, the bigger one just keeps popping out the leaves!
My still slightly sulky coriander, it did smell amazing while I repotted it though, looking forward to cooking with it when it gets bigger
And as some of you will be aware, I made mango chutney a few days ago, and the recipe made over double what it said it would! The big jar is 1 litre and that stuff is SPICEY! Good thing my Uncle loves mango chutney and spicey food as he's getting the big jar for Christmas! It is really good though