Tank Test #1: Quite a fail. For now.
---
So... it's been a while since I posted anything to this blog. Because it's been a while since I did anything with my giant tank. But it was moved to my new house this past Tuesday, so I figured it was definitely time to get moving on putting it all together.
I carefully assembled all the pieces. Then we measured for and installed some plant hooks, which I will use to suspend the light fixture. Oh, it looked so good. Like this: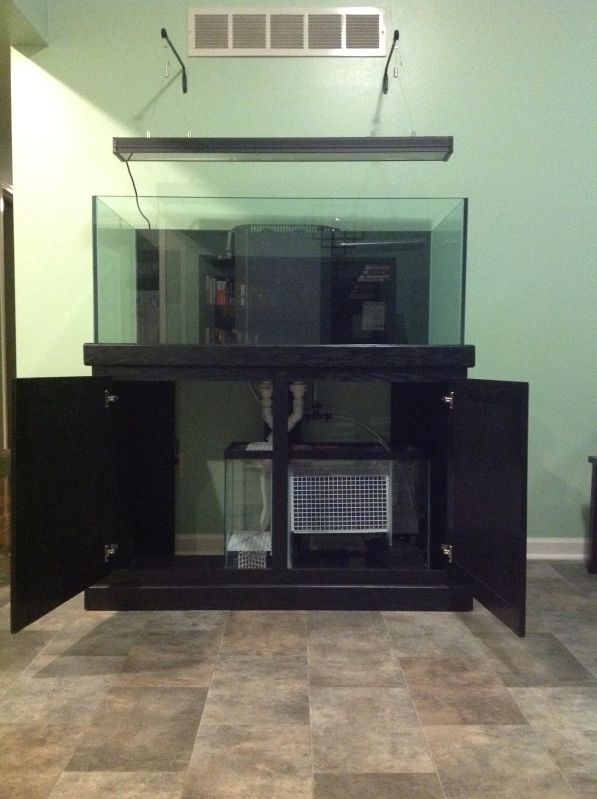 Then I filled it with water! That was exciting, and nerve-wracking.
A picture of my nail-biting anticipation: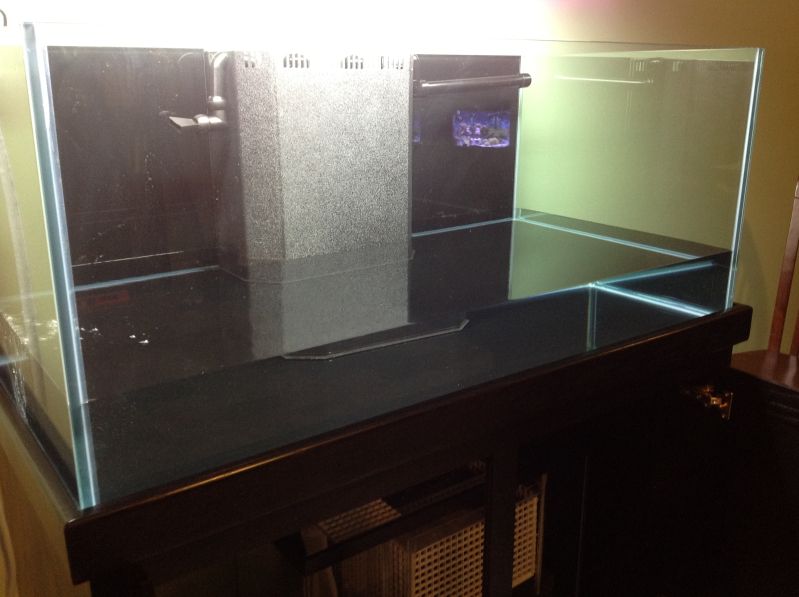 That part went fine. And then the water reached the overflow level, and began pouring down into the sump. And that was fine. So I waited till the sump was fairly full, then stopped filling. And then I turned on the pump that returns water back to the tank...
And it worked fine! Hooray!
But, since none of the whole system was tested, I needed to make some adjustments. And here is where I found the heartbreaker of the night. We were draining some water out of the sump to give ourselves a little water-wiggle-room, so I could take one of my standpipes out and drain the overflow chamber. Well, when I did that, the water flowed down into the sump... and the whole thing fell apart on the inside!
This is what it looks like right now: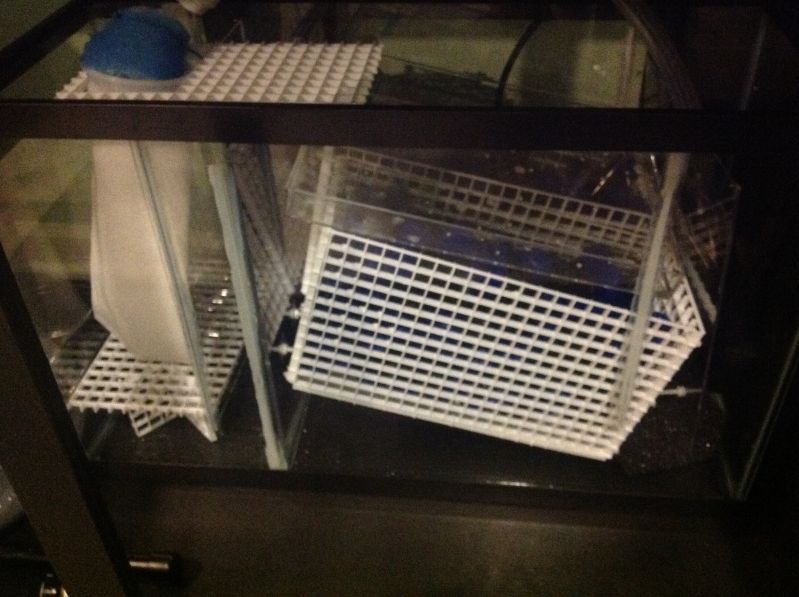 As a reminder, here is what it used to look like: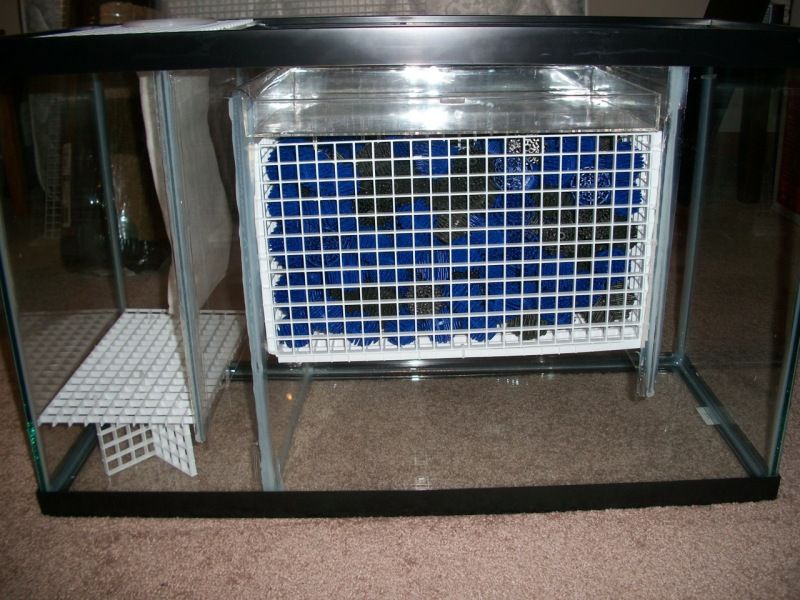 For some reason, the sump was fine while I was filling the tank with water, and while the pump was running, but when I stopped the pump, and then drained more water into it, 2 of the 3 baffles failed. I siliconed the bejeesus out of those suckers, too!
So... I gotta fix this somehow. I basically have two options.
1. Completely rebuild the sump. I am not positive this would work, since I did everything I know how to do the first time around already. I don't know how to do it better. I am sure I could do it better; I am just not sure how to go about that.
2. Abandon the sump and get a couple of canister filters. The overflow system would work fine with these, and I could keep all of the plumbing parts actually in the tank already, but replace what's under the tank in the stand with canister parts. I could repurpose my pump for draining my aquarium during water changes.
Right now, I am leaning toward option 2. This is kind of sad, as I've put a lot of time and money and thought into the sump, and I really like the idea of designing my filtration exactly how I want it. But, I am a little worried that I will rebuild it, only to have it fail again. I know that a canister would work fine in this situation--many people use them with built-in-overflow aquariums with lots of success. In some ways, they are better, because they cannot overflow like a sump can under certain circumstances (though there are tons of things you can do to prevent this; I don't want to scare anyone), and they tend to be loads quieter than the rushing waters of a sump.
I think if I were to get canisters, two Fluval 306s would probably be good. That would put me at about 6.7x turnover with the pumps. This would be expensive, but more or less guaranteed to be alright.
Anyone have any thoughts on the matter?