Hi meet me Karen>>>>>
<<<<<<Just a little Crazy >:}
I am a strange 21yr old who is crazy about horses and recently about Goldfish <3 I started out with a Oranda named Tommy boy in a uncycled 10gallon tank lets just say things went horrible and he got dropsy
I found Koko's at this time and so many amazing people helped me unlike other forums who couldn't get past the fact I had only a 10gallon tank and test stripes. They helped me try to save my Tommy Boy but unfortunately it was too late.
At first I wasn't sure if I was going to continue having goldies since I originally got into having fish as a stress reliever (HAHAHAHA) It was the fact I had that I had just bought a 40gallon tank and would feel horrible of leaving all the wonderful people on Kokos that kept me going for another try. (super happy I did) So I did a fishless cycle and had Koko help me every step of the way
. Once my 10 gallon cycled I got Castor a lovely Calico Lionhead. He started QT nicely besides have some small issues and floaty ones. Once again Koko's was with me every step of the way
Once he was done Castor got to go in the 40 gallon all by himself (lucky fish)
I then for the first time say a bubble eye in person and really got to see how beautiful they really are. I tried my hardest to fight the urge to get one since I wanted a break from QT fish (nice try
). I eventually gave in since all the other bubble eyes past away and the little black and white calico was still there and just couldn't fight it or leave her to the same fate. This little fish is growing fast that is for sure and she has had the most uneventful QT ever ( I love her for this )
A week later I noticed my Petsmart got these wonderful Orandas that were just stunning just........I wish I could say the same for their health:( I told myself no more fish for awhile. .... Well guess my while turned out to be a day when I cam back Prince was the only one out on the floor tank. I asked where the other big ones were and the associate said they were being treated since they were so ill. I asked why the other Oranda (Prince) was still left on the floor since he was just bottom sitting side ways barely moving. She said they didn't have any more room so I told her I would take him. He was bagged up and even the cashier looked at me like I was crazy since he didn't look well. Once we got home I put him in QT with nice clean water and salt. He already looked to be improving. Once I got a better look at him I noticed he had bigger problems than just a bad case of Flukes.....He had anchor worm too even on his fins poor guy
I removed them all and next day told the associates what to treat for. There is one amazing associate who took my advice and came on to Koko's to look around and did some reading
She started treating the fish for Flukes and salted the tank up to .3% salt and removed all the anchor worms. She showed all the other associates as well how to salt and how it can help. Unfortunately though 1 of the fish didn't make but she said that in most cases they would have both died and this is the first time they actually fixed something.
(you guys still reading !!!! I talk to much lol
)
So after waiting 2 weeks I noticed my LFS got in more bubble eye since I kept talking about them
That day they came in I got 1 and boy is she tiny only at 4grams lol. She does however have some issues which are being taken care from the help of this amazing forum and the swelling in her belly seems to be going down
I hope things continue to keep going forward and she can thrive with my other bubble eye and have tons of bubbly adventures lol.
Now some pics of my crew
Castor my first thriving finned baby
He is kinda crazy lol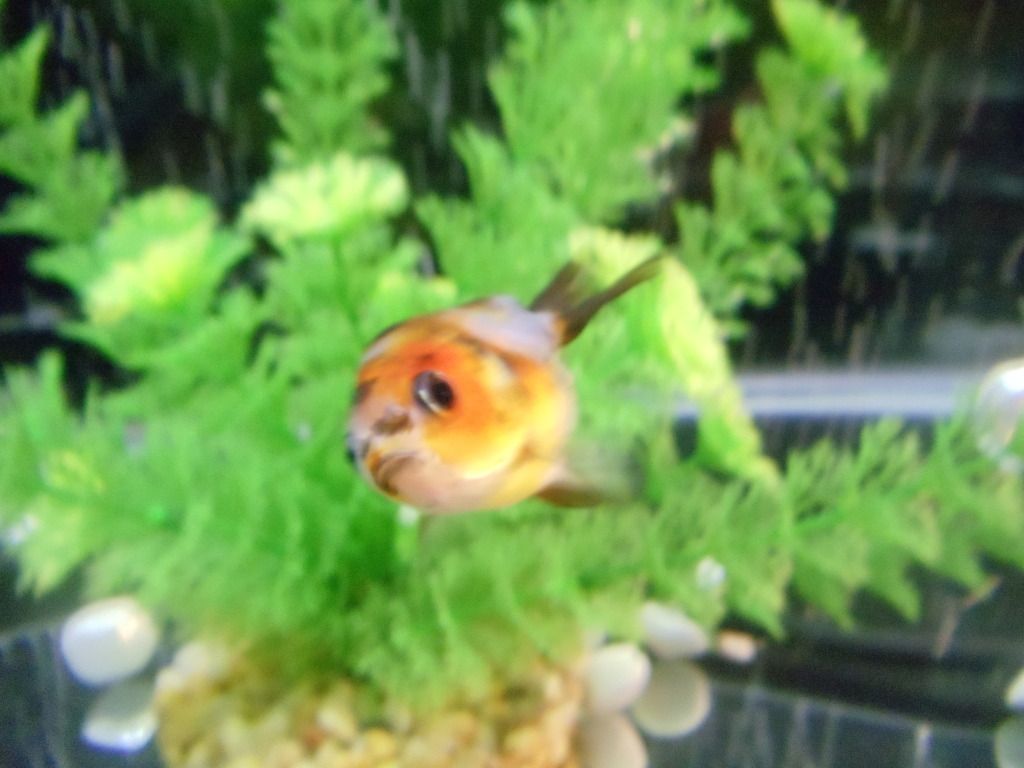 My sweet Prince who keeps pushing forward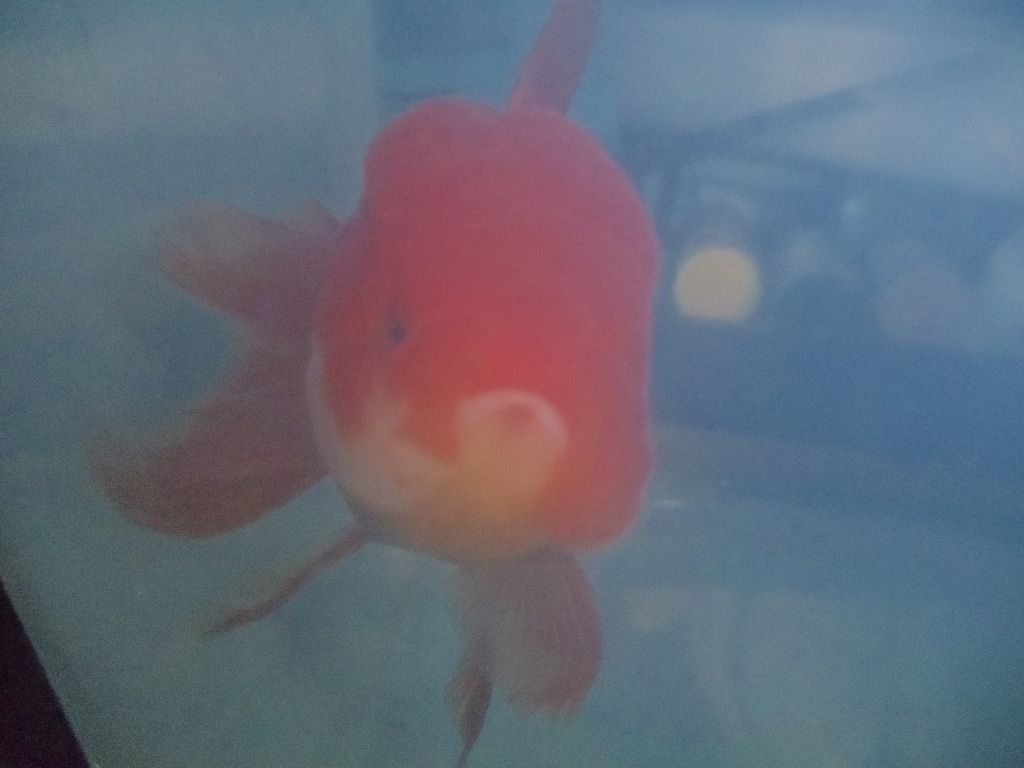 My crazy bubble eye(still needs name )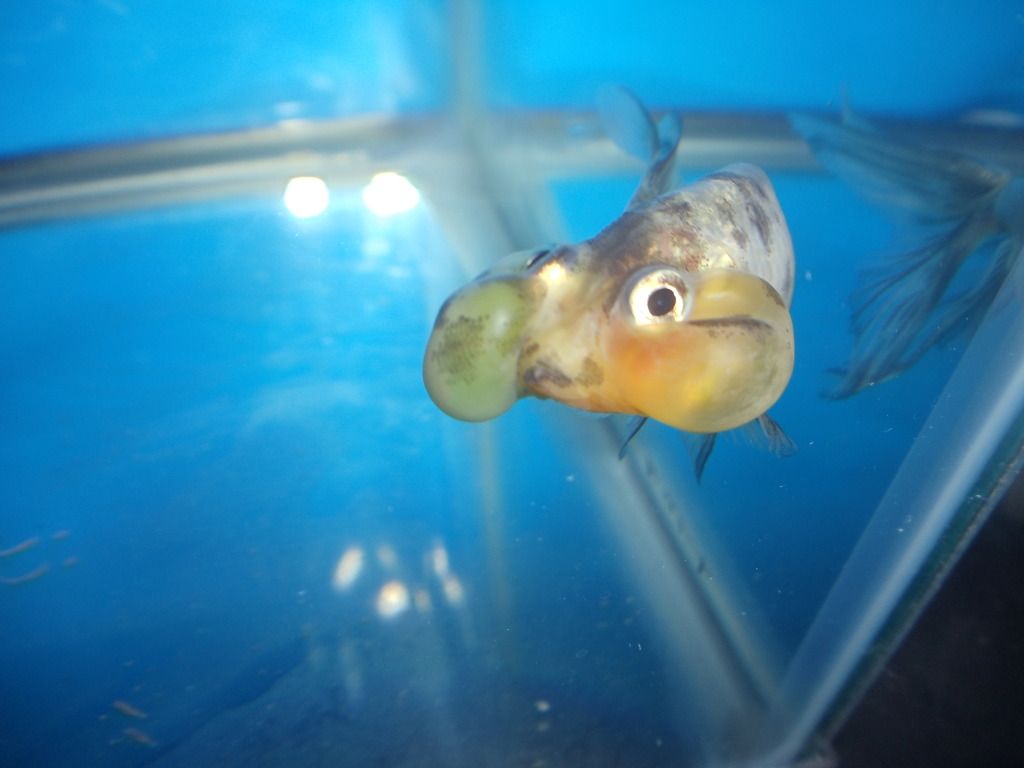 Last but not least my 4grams little bubble eye
Thanks for reading