I've been toying with the idea of starting a blog, mostly to chronicle certain dates and events regarding my pets. After reading and enjoying several blogs on Koko's, I decided to give it a go.
I decided to make my first post about my dogs, who you all are yet to meet. I have two Boston Terriers named Abby and Wiggles, who both have drastically different personalities, but are both quite perfect in my eyes.
:heart
This is my Abby.
:heart
Abby is five years old, and is way too smart for her own good. She recently has taken a fancy to figuring out how to open every door in the house, she literally jumps up and uses the handle like a human. I find this has actually become somewhat useful when I come home with groceries or have my hands full. She knows numerous words and is always listening to us talk to try to figure out what's going on, especially when there's food words involved. Food is her OBSESSION and she has no problem "reminding" me when it's getting close to dinnertime by nudging me with her paw. She is the absolute sweetest dog in the world and such a huge part of my life.
:heart
This is Little Wiggles
:heart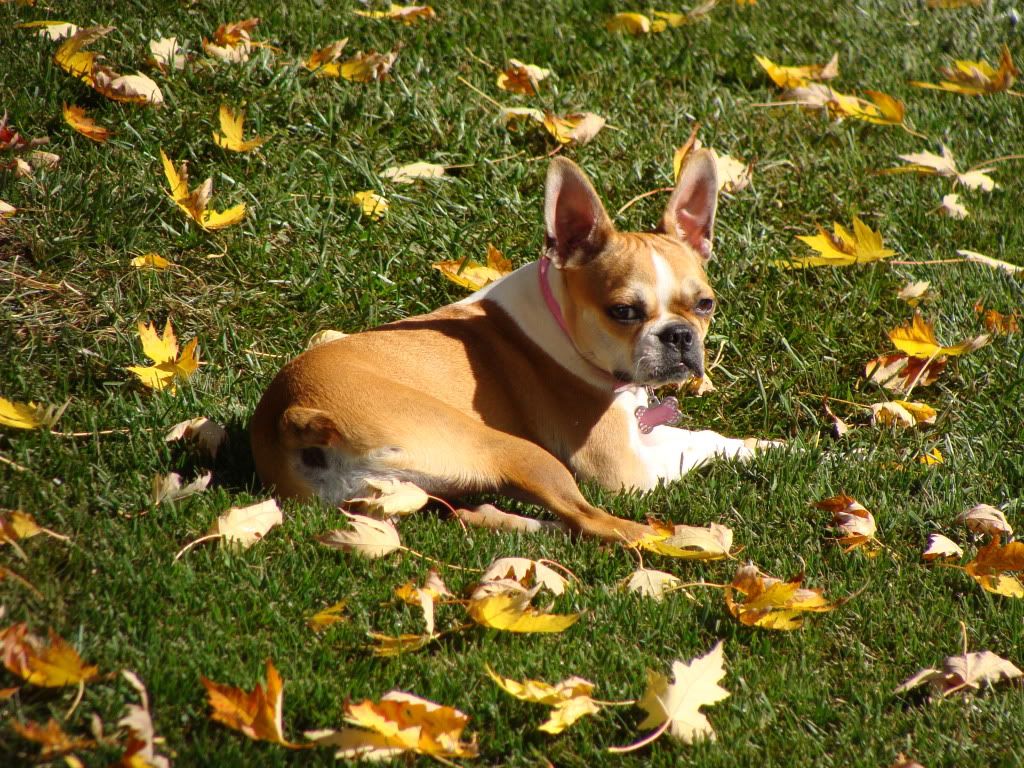 Wiggles is two and a half years old, and is a very "special" little dog. She is a great little dog, but in order to introduce her properly I really need to explain her history.
I adopted her from a no kill shelter in San Francisco where she had been kenneled for the first three months of her life. She was dropped off there by a breeder, who couldn't sell her since she was born with what they believed was a rare and terminal liver disease. I wasn't planning on adopting a new dog, but was contacted by a friend who worked at the shelter and was asked to take her home due to my background in veterinary medicine. After LOTS of persuasion, and I decided to go pick her up and do my best to make her comfortable.
When I got her home, I started noticing a few different things that were odd and didn't add up with her diagnosis. She just didn't display common symptoms with the disease she was thought to have. Her issues looked neurological to me, and most of her problems were with her low weight (just three pounds at the time) and HEAVY Giardia infestation, which kept her from gaining weight. In addition to all this, she was under exercised and weak (as they thought she was dying) and this just worsened her symptoms.
Since I felt she wasn't diagnosed correctly, I decided to take her to the UC Davis Veterinary Hospital just an hour away from my house and have a full neurological exam. There, they were able to take multiple tests and do an MRI, which concluded that her spine was impacted between her 3rd and 5th vertebrae, and that she was by no means dying.
It took over a year to get her walking correctly, but now she is a little spaz! She weighs 16 pounds, and is honestly the most feisty little dog I've ever met. She doesn't care if your a Pitbull or a burglar, she will NOT let you in our house uninvited and struts around like she's our little personal body guard. She is also very much enjoying Abby's door opening habits as she gets to find neat little treasures to destroy, such as shoes and magazines.
Currently, my mom and I share custody of little Wiggles since she is still very high maintenance and I travel a lot for work. Wiggles definitely doesn't mind, since spending time with grandma means no rules, lots of treats, and constant doting.
These two are much more than just pets to me and I'm sure you all will be hearing more about them. Thank you all for taking the time to read my first post, I hope you enjoyed the introduction to my non-aquatic babies.