The last and arguably most important piece of plumbing is upon us: the creation of the sump. You can read about my plans here. I created the insides of the sump earlier, and wrote about it here and here.
Today I siliconed the acrylic baffles into my sump! I was sort of lax on taking pictures, but I'll show you what I've got.
Maybe it'll be better to see the process pictures and then read what I did.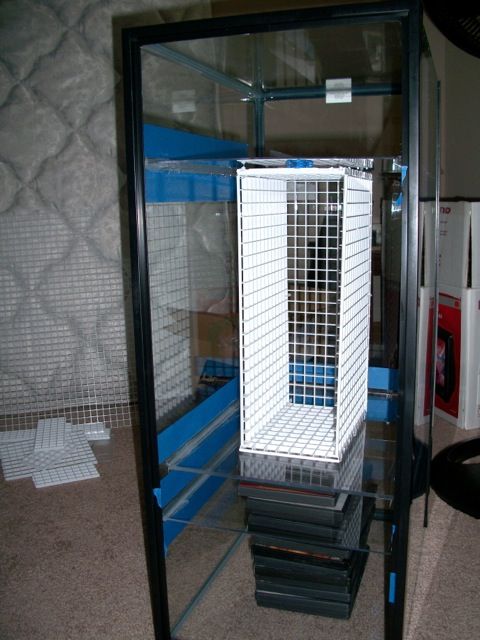 Basically, what I did was this:
Mark with a dry-erase marker on the outside of the tank about where I wanted the acrylic pieces to go, and then cut acrylic pieces to fit the lengths I wanted. I wish I'd taken pictures of this but completely forgot. Cutting acrylic is a huge pain in the butt. I chose to do thinner acrylic for the first and third baffles, but thicker acrylic for the middle one because it actually has to hold the weight of some water.

Drill holes in the acrylic to accommodate the supports for the media baskets.

Lay the sump aquarium upright on its end, and stack dvds (poor man's spacers) to approximately the height I wanted the first baffle to be. Add the appropriate acrylic piece on top. Erase the first estimative marks, and draw in marks on the outside of the tank to reflect the actual position and length of the acrylic pieces. Repeat for all baffles, using one of the actual media baskets as a spacer for the media basket chamber, and then remove dvds, baffles, and basket.

Tape next to lines, to give the silicone a good border. Be careful to make the tape lines fairly even and reasonable looking.

Starting at the bottom, run a line of silicone just under the marker line on the outside of the tank for the first baffle. Replace the first stack of dvd spacers, and then add the acrylic piece on top. Add a bead of silicone on top of this piece of acrylic, and smooth both the upper and lower silicone with a gloved finger.

Repeat for remaining baffles. Leave the bottom alone for now because it's darn near impossible to reach it.

Remove tape, and wait for silicone to set up (a few hours).

Remove dvd spacers, turn tank back on its bottom, and silicone the one baffle part that touches the bottom of the tank.

Add the media basket supports, which are just plastic nuts and bolts. Run some silicone around the nuts of the supports in the "water-bearing" wall.

Hey look! This is what I ended up with!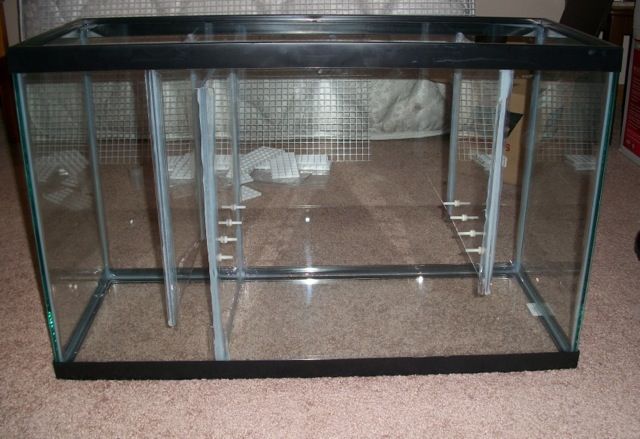 Gosh I hope that makes any sense. Feel free to ask questions if it didn't.
After the silicone has had a few days to cure, I will add in all the innards and take some pictures of the whole thing for y'all.