In Order to Form a More Perfect Union
---
Today I started work on the plumbing below the tank going into the sump--the parts that the standpipes I just built will drain down into. I had a great plan for this! I decided I wanted to use union connectors immediately under my tank, so that I could disconnect my drain pipes if I need to clean or maintain them. A union connector is three pieces that look like this:
They go together like this: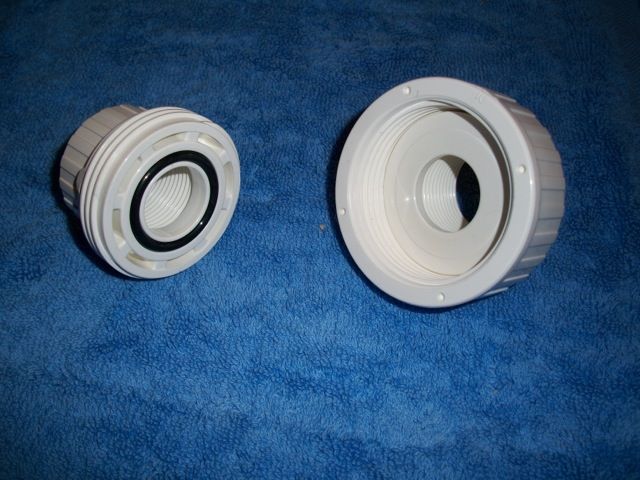 Union connectors allow you to join your plumbing parts together in a way that allows you to unfasten them if you need to. They work pretty much like attaching a garden hose to the outside faucet; the big ring is the part you twist to join the two smaller pieces together.
The problem with these is that they are pretty big. So once I attach the top piece to my bulkhead, there's no way I'm getting the bulkhead through the hole drilled into my tank, or getting the nut that fastens the bulkhead to the tank over the union pieces.
[i should back up here a second and explain that PVC plumbing can be connected in one of two ways. There are slip connections, where you just insert one piece into another. To make slip connections watertight, you glue them together with PVC glue. The connections in my standpipes are all slip connections. There are also threaded connections, which, as you can imagine, are threaded and screw together. To make these watertight, you use teflon tape, which is not permanent.]
My drain bulkheads are slip on both the top and the bottom, so anything I attach to them (on the bottom, at least, where watertightness is important) will have to be glued in. This is fine, but if what I glue into them is larger than the bulkhead nut or the hole I need to put the bulkhead into, I have some problems. The only way to work this is to glue it in after the bulkhead is installed. There is no way to unglue the connection, so it would be permanent. Plenty of people do this, but I want my plumbing to be removable, just in case.
The plan I came up with for this problem involved this: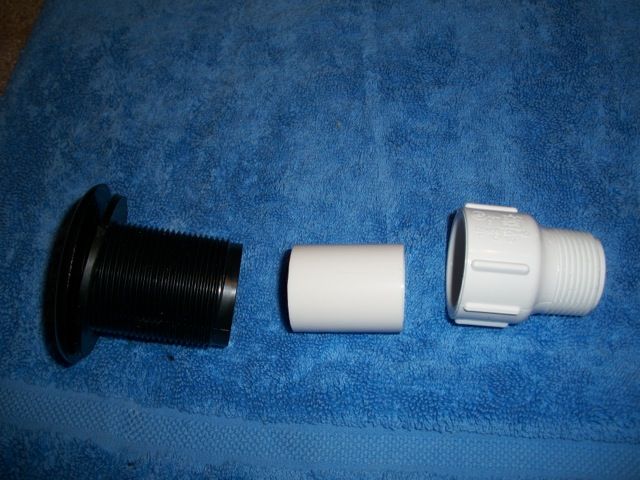 I would put a small bit of PVC into my bulkhead, then attach a slip to thread adapter, and screw that into the (threaded) top of the union. (You can also get slip unions, but mine are threaded.) This is an awesome plan! The adapter is WAY smaller than the union, so it should work, right?
Nope.
I first discovered that the adapter did not fit through the hole. It almost did, but not quite. But the adapter had these little ridges on it, and I don't need those, so I took them off.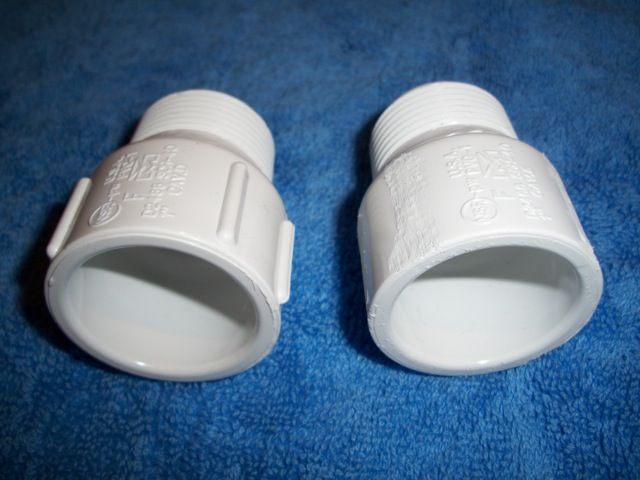 Not the prettiest fix, but it's alright I suppose. Except it didn't work. It fit through the hole drilled in the aquarium fine. But I couldn't get the bulkhead nut over it, even after shaving off the ridges. But I am stubborn! So, after 45 minutes and coating everything including myself with about 2 inches of PVC shavings, I ended up with this: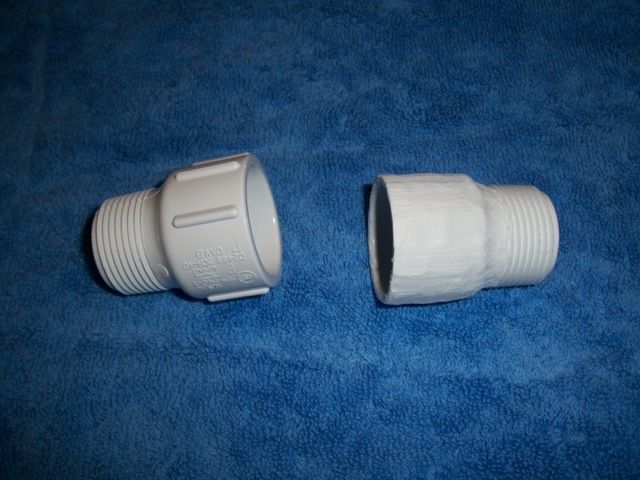 I basically sanded down the outside of the adapter with a dremel until the nut fit over the outside of it. It's ugly, and a bit of a kludge, but it works. (Note: I would not recommend doing this for any kind of pressure application. This part of my plumbing will be a gravity drain, so the adapter will not be under any pressure. So having thinner walls is not a big deal in this case, but it might be in other cases. I don't know for sure.)
Success! I ran to install it in my tank, so I could show the holes who's boss: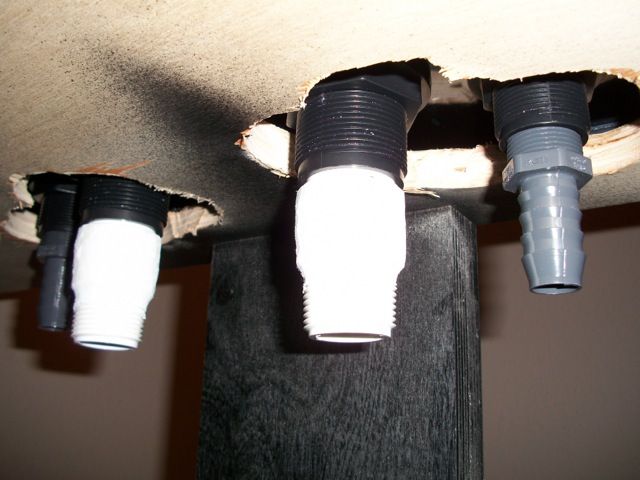 Oooooooo. Neat! Hey, let's put the unions on too!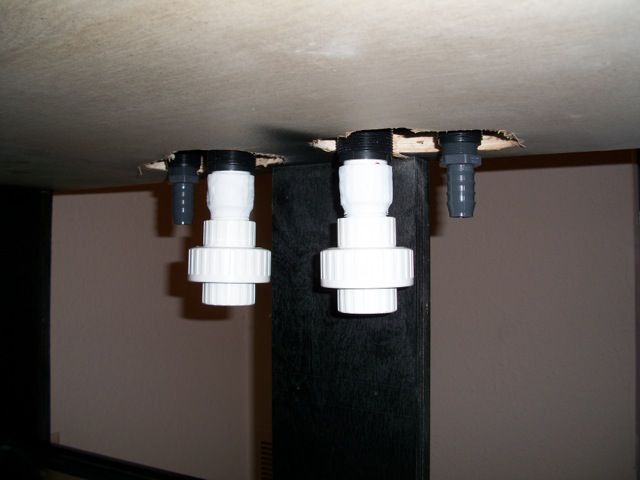 Fancy.
I decided to stop there, because that was far more complicated than I was thinking it would be. Hopefully the rest of my plumbing will be uneventful.
(A postscript: You may be wondering, "Courtney, if you're going to screw the union onto the PVC anyway, why not use skip the union and screw your plumbing straight on to the adapter?" That is a fine and astute question! I was wondering that myself, but then I realized that on the other end of the union will be some large and fairly cumbersome pipes--not the kind of thing you can go rotating 360 degrees all willy-nilly. Unfortunately, that won't work. But that's why I have unions!)