Ever since I first joined Kokos a fairly large handful of years ago, I've wanted a big aquarium. I drooled over large setups in LFSs for years... but it was never the right time for such a purchase. At first, I was a poor college kid so it was a purely theoretical exercise. Then I was in a series of fairly temporary housing situations, so having a tank at all was somewhat difficult. Eventually, after looking and looking and looking I decided that if I was going to go, I should go all out and get exactly what I wanted.
So I started saving up. Then I found yet another reason to put off buying a tank--I'm going to buy a house this summer. So I should probably wait until I move to set up anything substantial. So I got my one goldfish in my one small 20 long, and I started waiting.
A few weeks ago, though, I was in a local LFS and started talking about this tank I really liked with the owner. And after speaking for a bit about the price on it, I decided it was worth it to make the jump. The tank is exactly the size I want. And it has exactly the features I want. So I bought it. And here it is: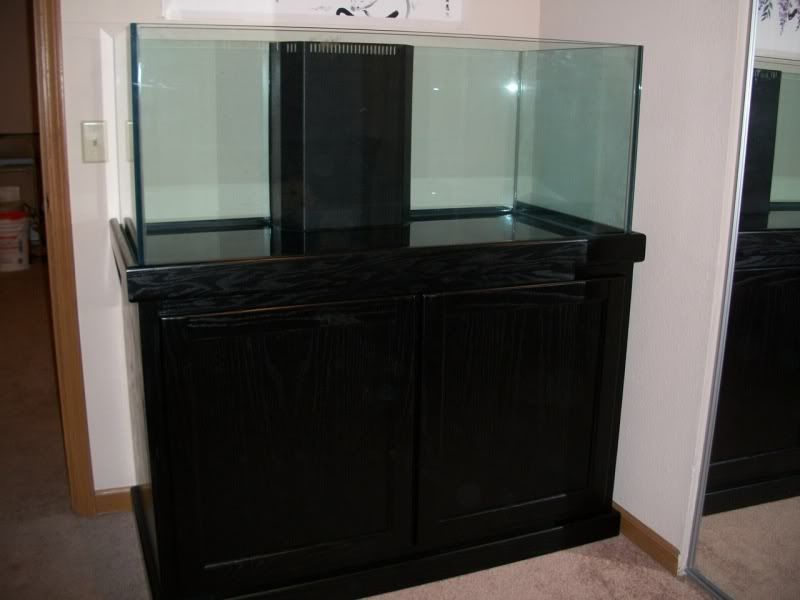 I am so excited about this tank! It's a rimless aquarium, drilled with overflow. It measures 48 inches long, 24 inches wide, and 21 inches deep on the outside. It's sold as a 105 gallon aquarium based on these dimensions, but the actual capacity should be closer to around 90 gallons. It has really thick glass, and it's not meant to be filled all the way to the top.
I will have a lot to build and learn, so I've made my tank a blog. There are lots of new experiences for me here: the sheer size of the thing, the plumbing, and the fact that I want to use a sump and will design my whole filtration sytem myself, for a few examples. And I'm really enthusiastic about documenting projects. So that is what I will do here.
Hopefully you like it.